Carden Park is one of North West England's finest conference venues with 196 bedrooms and extensive facilities. It is located near to Chester and the nearest airports are Manchester and Liverpool
The Turkey Science and Production Conference is a continuation of the highly successful series of 'Technical Turkeys' conferences. The 12th conference of the new series in 2018 aims to provide an opportunity for members of the European turkey industry, suppliers and ancilliary bodies to update on the latest scientific developments and production trends. The conference also aims to provide an informal venue for delegates to meet colleagues and friends to discuss existing business or explore new opportunities
In 2018 we return to Carden Park, Chester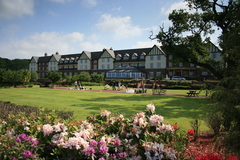 Get Ready - Programme and Registration Published mid December 2017
Plans are confirmed for the 2018 event which will be held at Carden Park Hotel, Cheshire, UK on
21st -23rd March, 2018.
Topics include reproductive biology, gut healh, avian influenza, European industry review, turkey welfare, nutrition, nutrient analyses, enzymes, foot pad lesions, turkey management, incubation
As before we will operate a shuttle bus 21st March from Manchester Airport to the venue and on 23rd March back to Manchester Aiport.
I have worked in the turkey industry for over 25 years and in addition to organizing this conference have a turkey farm and provide help to farmers and companies. We are not professional conference organisers but we hope that being involved in turkey production we can bring our experience tio make the conference relevant to the wider industry..
Turkey Science and Production Conference
The leading meeting point for the European Turkey Industry